Article
Comments for
From WWE to Hollywood
Written by Eric
First Posted: December 30th, 2009
(0)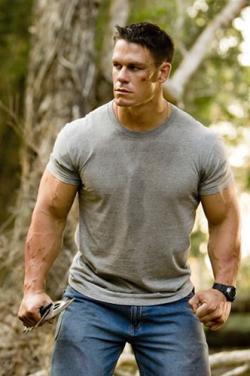 John Cena in The Marine.
Hollywood stars have come from many different entertainment venues. From singers, to models, to athletes, you never know where the next big movie star may come from. Even the world of wrestling entertainment has, and does, produce many wannabe action movie stars.
One of today's biggest action stars is Dwayne Johnson. He found huge success as The Rock in the rings of World Wrestling Entertainment. He had a small role in The Mummy Returns(2001) and has since gone on to become one of Hollywood's most sought after stars. He has even branched out of the action genre to do comedies like Game Plan (2007). His latest film, The Tooth Fairy, opens soon in a theater near you.
Although he is the biggest movie star to come from wrestling, The Rock was hardly the first. Hulk Hogan (Terry Bollea) Made his film debut in Rocky III (1982). He made many forgettable films, such as Mr. Nanny (1993). After wrestling and before entering politics, Jesse Ventura tried his hand at acting in Predator (1987).
Many times, wrestlers were brought on to a film project as an oddity of sorts. Andre the Giant handled comedy very well playing the easy going giant Fezzik, in The Princess Bride (1987). The height of The Great Kahli (Dalip Singh) likewise landed him small roles in the films, The Longest Yard (2005) and Get Smart (2008).
In 2003, World Wrestling Entertainment started it's own production company. It's first two films, The Rundown (2003) and Walking Tall (2004) were both successful vehicles starring The Rock. In 2006 it released See No Evil starring the large, bald wrestler Kane. It barely got noticed. That same year they released The Marine, with John Cena. It was hardly the hit that The Rundown was, but it demonstrated that Cena has some potential as an action star.
Stone Cold Steve Austin was one of the biggest wrestlers of the 1990s. WWE productions put him in The Condemned in 2007. It was a modest hit at best. WWE next went low budget with a direct to DVD film. Wrestler Mr. Kennedy (Ken Anderson) starred in Behind Enemy Lines: Colombia (2009). Although the plot was simple and production clearly on a tight budget, it was still better than the big budget first film with Owen Wilson.
On December 29th, 2009 WWE released the sequel to The Marine. This time it stars Ted Dibiase, who wrestling fans know as one third of the wrestling team of Legacy. Along with Randy Orton and Cody Rhodes, he is a second generation wrestler. Again, it is clearly on a small budget but the production does not suffer for it. I enjoyed The Marine 2 just as much as the first one. I am not sure how much money it will make, but all 12 copies of it were rented out on it's first day of release at my local store.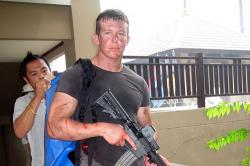 Ted Dibiase jr filming The Marine 2.
WWE has not given up on theatrical releases. John Cena starred in 12 Rounds (2009) this past year. Although it's plot was similar to The Marine it did have a bigger name director, Renny Harlin. John Cena and WWE also have a new film in the works, Brother's Keeper, due out in 2010.
Also slated for release in 2010 is Wrong Side of Town, which stars former WWE wrestler Rob Van Dam. Also appearing in it are wrestlers Big Daddy V (Nelson Frazier Jr.) and Dave "Batista," whose acting credits include an episode of Smallville (2006).
To see several WWE stars in action check out MacGruber starring Will Forte. He gathers a group of soldiers played by MVP, Jericho, Mark Henry, and The Great Kahli. The Big Show steals the spotlight with a surprising revelation.
When you consider that WWE is all about attitude and choreographed fights, it only seems natural that these guys make action movies. It is another thing for them to become actual movie stars. But in a world where Mariah Carey can get respect as an actress, I guess there is hope for anyone.
Did you enjoy this article?
+
3
-
1