Article
Classic Hollywood's Great Gay Costume Designers
Written by Patrick
First Posted: April 21st, 2004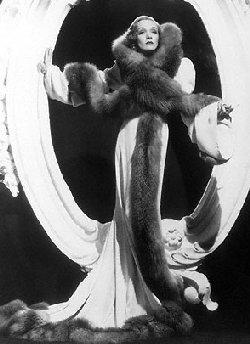 It is no great secret and will probably not surprise anyone that during the Golden Age of Hollywood most of the successful costume designers were gay men. Designer Miles White explains it this way, 'Gay designers have a feel for not only the design, but for the clothes themselves and how they'll be worn. We aren't afraid of them. We can imagine wearing them....I know how to wear what I'm drawing. Straight men don't know how twenty layers of chiffon move in contrast to one.'
The three greatest of these designers were Travis Banton, Adrian and Orry-Kelly. Each of them headed the costume department at one of Hollywood's three largest dream factories and each had their own special muse in the form of a great movie star. Travis Banton worked for Paramount Pictures and his most famous creations draped the gorgeous body of Marlene Dietrich; Adrian toiled at MGM, the studio at the very top of the heap, designing gowns for the enigmatic Greta Garbo; while Orry-Kelly punched the clock at working class Warner Bros. where, fittingly, Bette Davis was the reigning star. They weren't the only gay designers in town; for example there was Howard Greer who, in 1922, became the very first costume designer to be given a contract to head a specific wardrobe department, and Walter Plunkett who is best remembered today for designing Scarlett O'Hara's dresses in Gone With the Wind, still there is little doubt that Banton, Adrian and Orry-Kelly were the greatest of them all.
Travis Banton got his big break when Norma Talmadge commissioned him to design one of her gowns for her picture Poppy (1917). A few years later his fame grew when he was asked to design Mary Pickford's bridal gown for her wedding to Douglas Fairbanks. During the twenties he dressed stars such as Gloria Swanson, Pola Negri and Clara Bow but he really came into his own with Marlene Dietrich. He designed the famous tuxedo she wears in Morocco (1930) where she kisses a woman on the lips, also the famous coat of monkey-fur trim, feathered hat, and long black dotted veil she wore in Dishonored (1931). Dietrich could wear veils, feathers, boas and strands of beads better than anyone and Travis Banton gave them to her. He designed for Mae West (lots of diamonds, huge hats and tight sequined gowns), Claudette Colbert's Cleopatra ensembles, Carole Lombard (whom he dressed in simple yet sensual lines), and Rita Hayworth's gowns in Cover Girl (1944). The last movie he designed gowns for was the 1958 classic Auntie Mame, although Orry-Kelly would receive sole screen credit.
Adrian was, and is, the most famous of the lot. Born Adrian Adolph Greenberg he would later be as closeted about his jewishness as he was about his sexuality. During his reign at MGM he designed gowns for some of the most iconic pictures ever made, like Grand Hotel (1932), Dinner at Eight (1933), The Great Ziegfeld (1936), The Women (1939) (in the middle of this black & white movie there is, rather inexplicably, a technicolor fashion show featuring some of his most original creations), and The Philadelphia Story (1940). His later movies include Hitchcock's Rope (1948), but his greatest claim to immortality would be 1939's The Wizard of Oz. Dorothy's blue gingham dress, Glinda's pink fairy number and the munchkin's whimsical outfits were all created by him. Adrian got his start in the 1924 Rudolph Valentino/Nita Naldi movie The Hooded Falcon, but it was whipping up elaborate evening gowns for the great Garbo in the late twenties and early thirties that really put him on the map. In addition to Garbo he famously designed for Joan Crawford (he created her shoulder pad look), Norma Shearer, Jean Harlow and Katharine Hepburn. Adrian's style was quite diverse, ranging from draped evening gowns to hooded dresses to padded evening jackets and elegant suits. His last movie was Lovely to Look at in 1952.
Orry-Kelly completes the great gay designer triumvirate of classic Hollywood. Whereas Banton and Adrian were circumspect about there homosexuality (both of them would marry women for appearances sake), Orry-Kelly was considered by some to be the most outrageous queen in Hollywood. Although, by contrast, he designed far less extravagant and fanciful gowns than the other two men. As a young man during the roaring-twenties he shared an apartment in New York's Greenwich Village with Archie Leach who would later become world famous as Cary Grant. Among Orry-Kelly's most famous movies are 42nd Street (1933), Jezebel (1938), Dark Victory (1939), The Strawberry Blonde (1941), The Maltese Falcon (1941), Casablanca (1942), Now, Voyager (1942), Arsenic and Old Lace (1944), An American in Paris (1951) (for which he won the Oscar), and Some Like It Hot (1959). He dressed stars such as Ginger Rogers, Rita Hayworth, Olivia de Havilland, Rosalind Russell, Ingrid Bergman and Marilyn Monroe but it was his relationship with Bette Davis that really made his career. He dressed her in no less than three dozen pictures from 1932 to 1952. The last movie he designed for was In the Cool of the Day in 1963.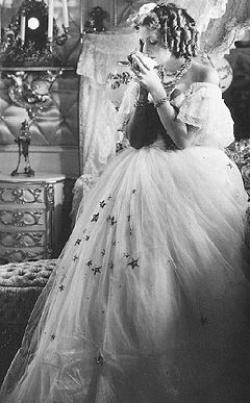 By all accounts these three titans of the Hollywood fashion world were effeminate men. This didn't stop both Travis Banton and Orry-Kelly from serving their country however. Banton was a sailor in the first world war and Kelly enlisted in the army during WWII. From the late 1920's, throughout the 30's and into the early 40's Hollywood nearly overtook Paris as the fashion capital of the world, due in large part to the work of these three men. They created The Hollywood Look, serving up glamour and style to an eager public. All three men died within a six year period, Travis Banton in 1958, Adrian the following year and Orry-Kelly in 1964. Perhaps it is good that they didn't live to see the changes that the 60's brought to the industry. Fantasy was out and realism in. Fortunately the many wonderful creations conceived and designed by these gentlemen live on in the form of celluloid dreams.
This article would not have been possible without William J. Mann's fascinating book Behind the Screen: How Gays and Lesbians Shaped Hollywood 1910-1969, Viking Press.